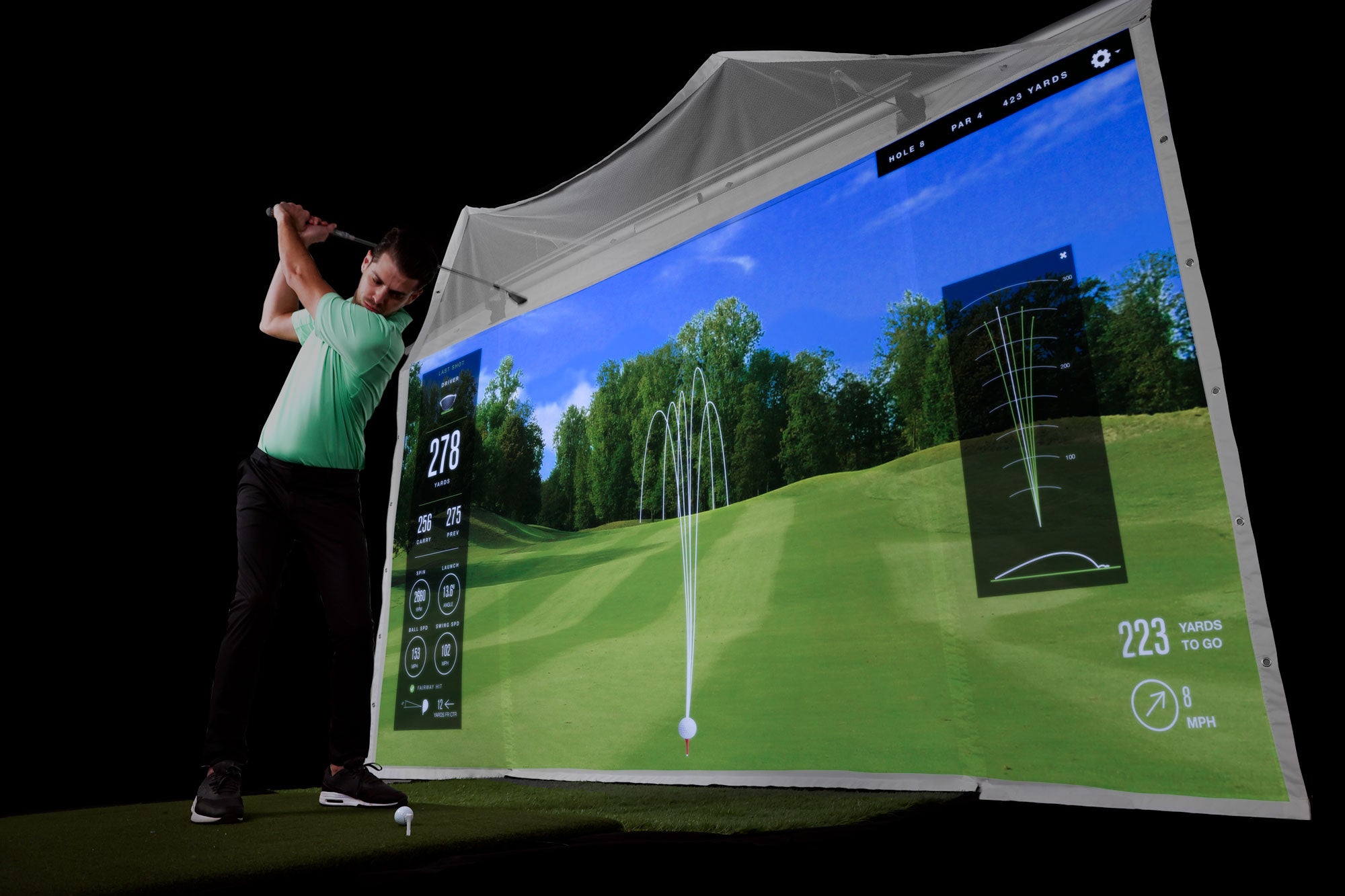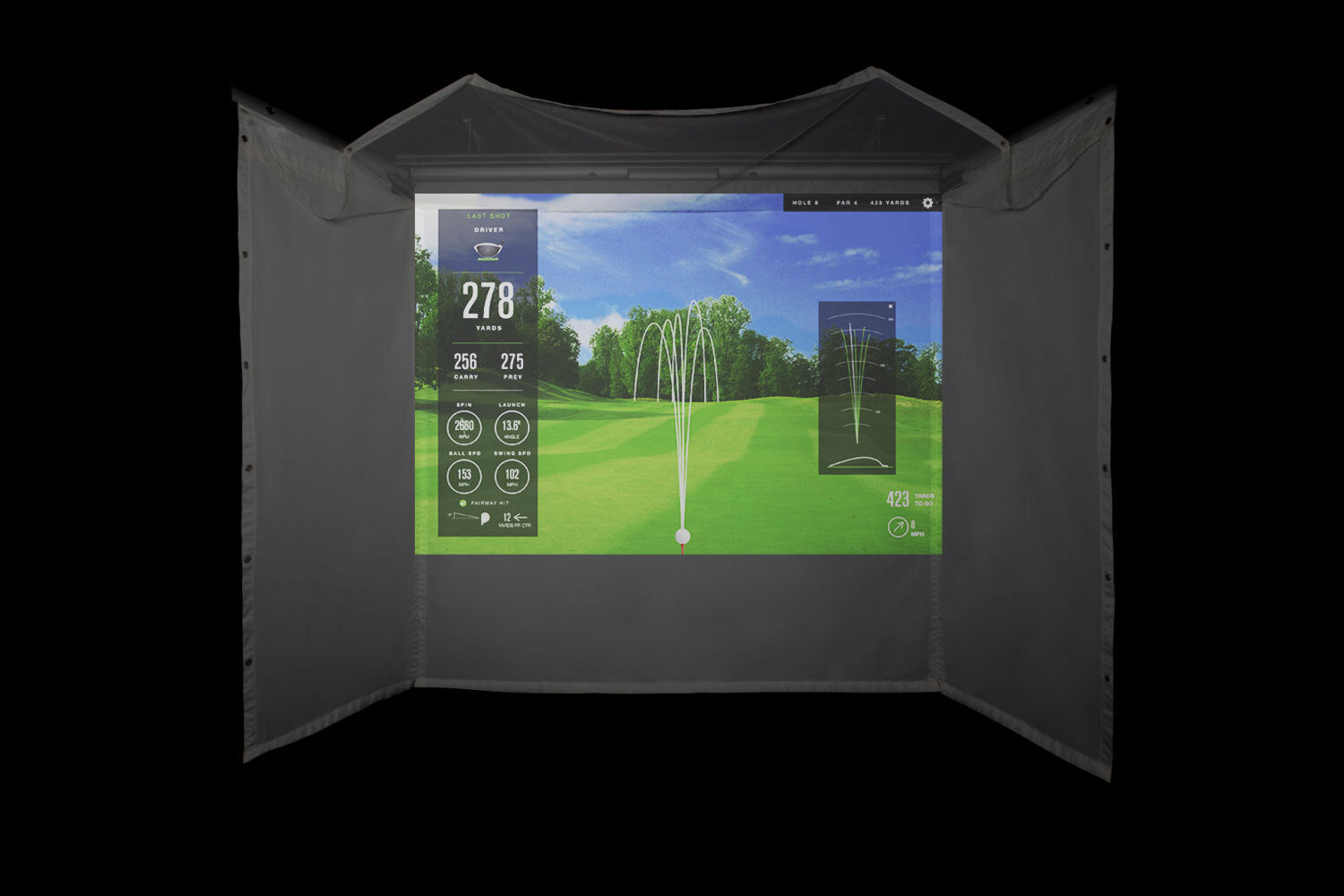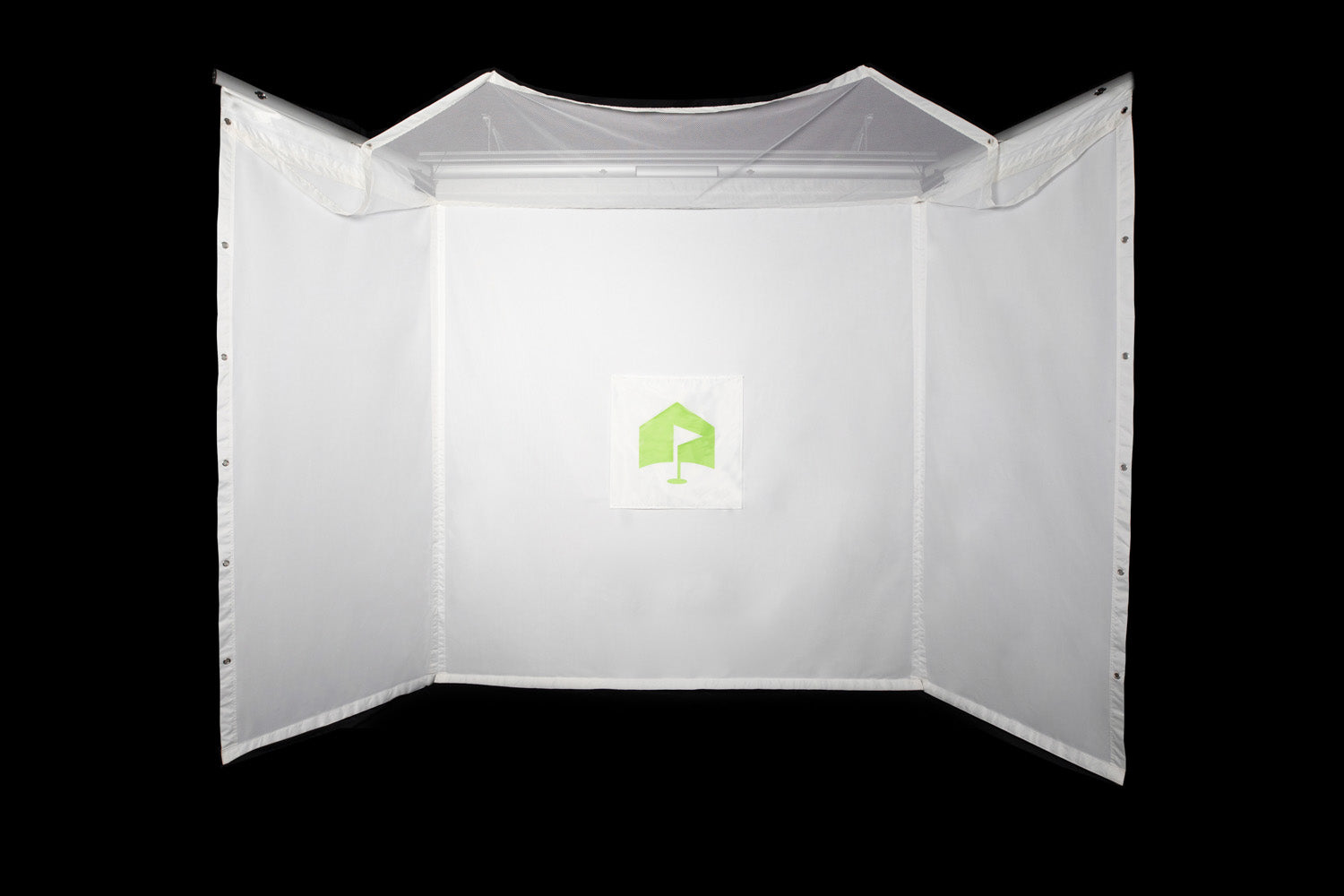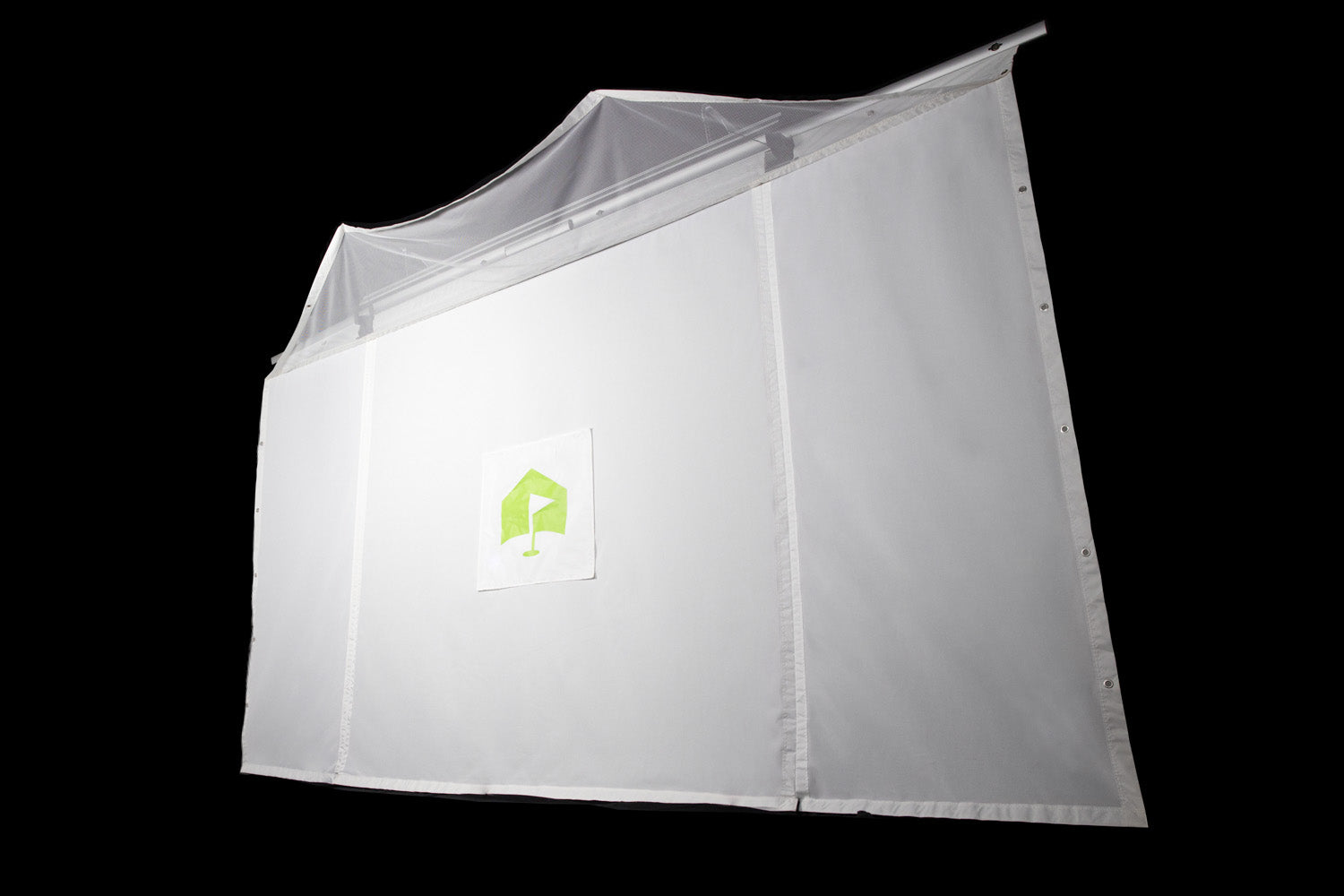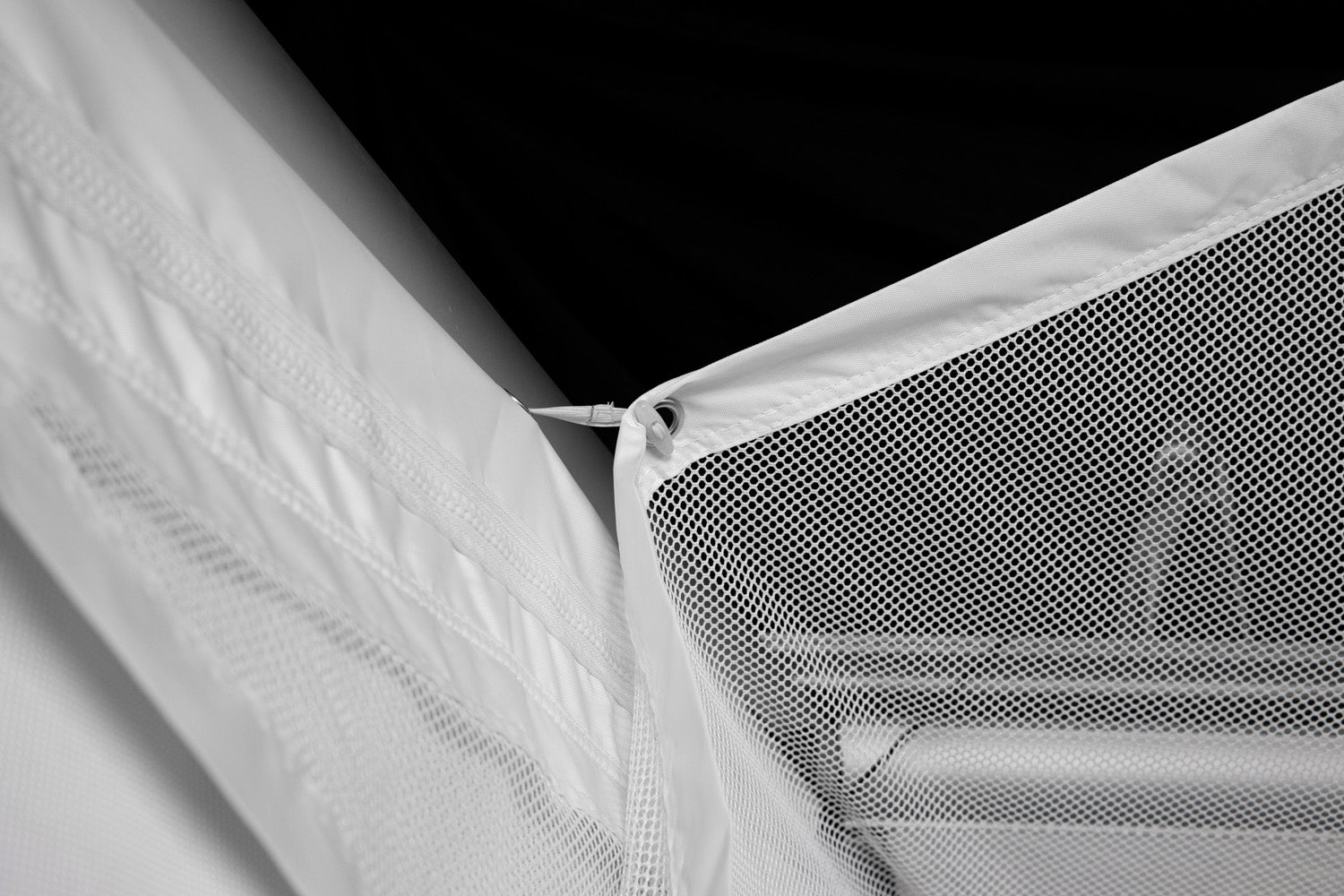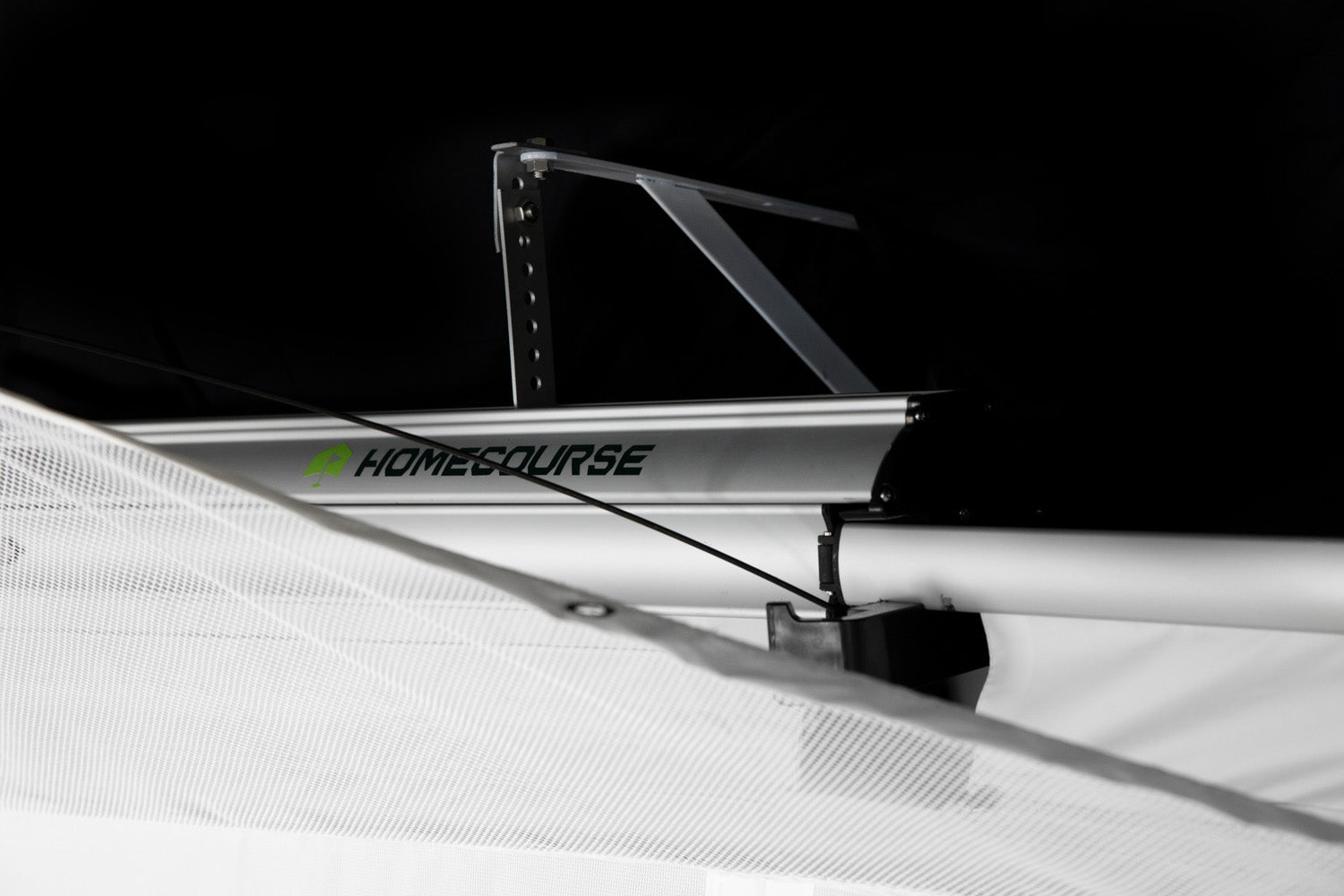 HomeCourse ProScreen 180
ONE TIME PURCHASE
Sale price

$2,299.00
Regular price
(/)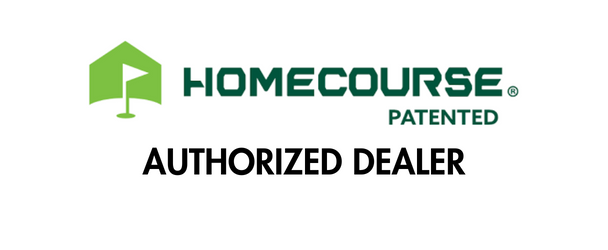 ---
The Premier Indoor Golf Simulator Enclosure
Create an indoor driving range — at the click of a button — with the newly upgraded HomeCourse® Golf ProScreen 180. Designed by experts, this premium golf simulator enclosure (simulator not included) is perfect for golfers looking for a safe way to play inside, at home or in the office. And for stores or facilities, the HomeCourse® Golf ProScreen 180 is the teaching, training, and practice tool for golfers and trainers that's in a category of its own.
Serious upgrades for serious players
Introducing the New HomeCourse® Golf ProScreen 180°
All the performance of the original HomeCourse® design, plus even more of our exclusive, ballistic-grade material — and an ultra-wide projectable area — make the all-new HomeCourse® Golf ProScreen 180 the ultimate retractable accompaniment to any golfer's home setup.


Pro Arms & Sky Net keep you in play
Only HomeCourse® Golf ProScreen 180 lets you use a real golf ball — worry free — when playing or practicing indoors. The Sky Net and Pro Arms create a three-sided, topped enclosure to help contain errant shots or sh**ks (we dare not say it) – protecting you, your space, and everyone in it. And with the included Pro Arm Extender tool, you can easily fold out both or one of the enclosure's sides (and close one for righties or lefties). When you're done, the sides fold right back in.
Ballistic-Grade Screen
Hit a live ball, then let it roll back to your feet
Both the screen and side netting of the Pro Arms are made of specialized ballistic-grade material that's specially designed to absorb the impact of a golf ball hit by a full-swing shot at point-blank distance. Built for extended durability, the ProScreen 180's screen ingeniously flexes at the bottom so the ball rolls back to your feet. All you need is enough room to swing freely, and you're good to let it fly.
Retractable
Get your room back
Don't have the dedicated space for a virtual golf practice setup? No sweat — HomeCourse® Golf ProScreen 180 is fully retractable. Tap the included wireless remote and in less than thirty seconds you — or your significant other — have got the room back. (Although, if you can get away with a golf enclosure as a permanent fixture in your living room, we salute you.)
Projectable
Play Your Favorite Course
Get the full experience of a virtual round of solo golf, or get competitive with your buddies and family, all for a fraction of the cost of other professional‑caliber stand alone simulators when you combine HomeCourse® Golf ProScreen 180 with a projector + golf simulator. The ProScreen 180's Pro Arm side nets can be extended to create an ultra-wide 14ft projectable area — ideal for projectors that cast a 16:9 ratio.
Wireless
No messy cables, ever
A powerful lithium-ion battery and a fully wireless design make the HomeCourse® Golf ProScreen 180 sleek as ever. Operating for months on a single charge, the wireless screen retracts with one touch from its — also wireless — remote.
Mounting Options
HomeCourse® is made to fit your space
Mount it on your ceiling, wall, or on our Pro Rack. All you need is 8 feet of clearance and the mounting option that works best for you.
Dimensions & Requirements

The all new HomeCourse® Pro Screen has two (2) distinct configurations. 180º to ensure maximum project-ability or 8 ft wide with 3 ft pro arms to fit into smaller spaces. It must be installed at approximately 8 feet from the floor. It's okay to have a little bit of slack so the ball can roll towards you after you hit it. You can stand as close to the screen as you can where your club won't hit the ballistic-grade screen or anything behind you (we recommend 12 feet front to back). Choose a mounting option and you can turn virtually any space that's 8' H x 14' W x 8' D into a home golf experience.
Add-Ons
HomeCourse Side Netting  +$199.00
Includes pair of side nets (left and right side and 4 sandbags-2 for each side)
HomeCourse Landing Pad +250.00
The Landing Pad is n 9'x5' artificial grass surface meant to soften the landing of a ball as it drops down from the HomeCourse ProScreen. It is not meant to be used as a hitting surface (golf hitting mat not included).
HomeCourse Wall Mount Kit +$125.00
If you would like to mount your HomeCourse onto a wall, you must purchase this kit. It works in combination with the Ceiling Mount Kit which is included with HomeCourse. Recommended for tall ceilings (9ft. or taller).

HomeCourse Policies

We are confident our consumers will be fully satisfied with their purchase. If for some reason you wish to return the product, we will gladly work with our valued customers to accept returns and exchanges of undamaged products within 30 days of the purchase date. Shipping will be at the expense of the customer. All refunds will be processed upon receipt of the undamaged unit to our warehouse facility.
Returns are subject to a restocking fee totaling 15% of the order total, as well as return shipping & handling fees.
Please make sure that the products you are returning are placed in their original retail box with all accessories, and with all protective packaging.
Please contact support@simulatorhq.com for a return authorization code and details to schedule a return.
What if my product is damaged?
Simulator HQ & HomeCourse® take pride in ensuring every item is delivered to our customers undamaged. If, however, you receive a product that is damaged during shipping, you must make note of the damage upon signing for the delivery and forward photos of the damage to support@simulatorhq.com. Simulator HQ will reship a new product to you as quickly as possible.
What is the warranty?
HomeCourse® offers a full one-year manufacturer warranty on the product for a period of one-year after the date of purchase. The manufacturer warranty includes the full product: motor, pro-arm netting, sky netting and projection screen. Our warranty policy excludes:
Product abuse or neglect due to consumer misuse
Repairs by a third party
Customer alterations or modifications
Damage caused by consumer mishandling
Normal wear and tear of product
For more information on the warranty, contact support@simulatorhq.com and one of our customer service professionals will be happy to assist you.
Choose options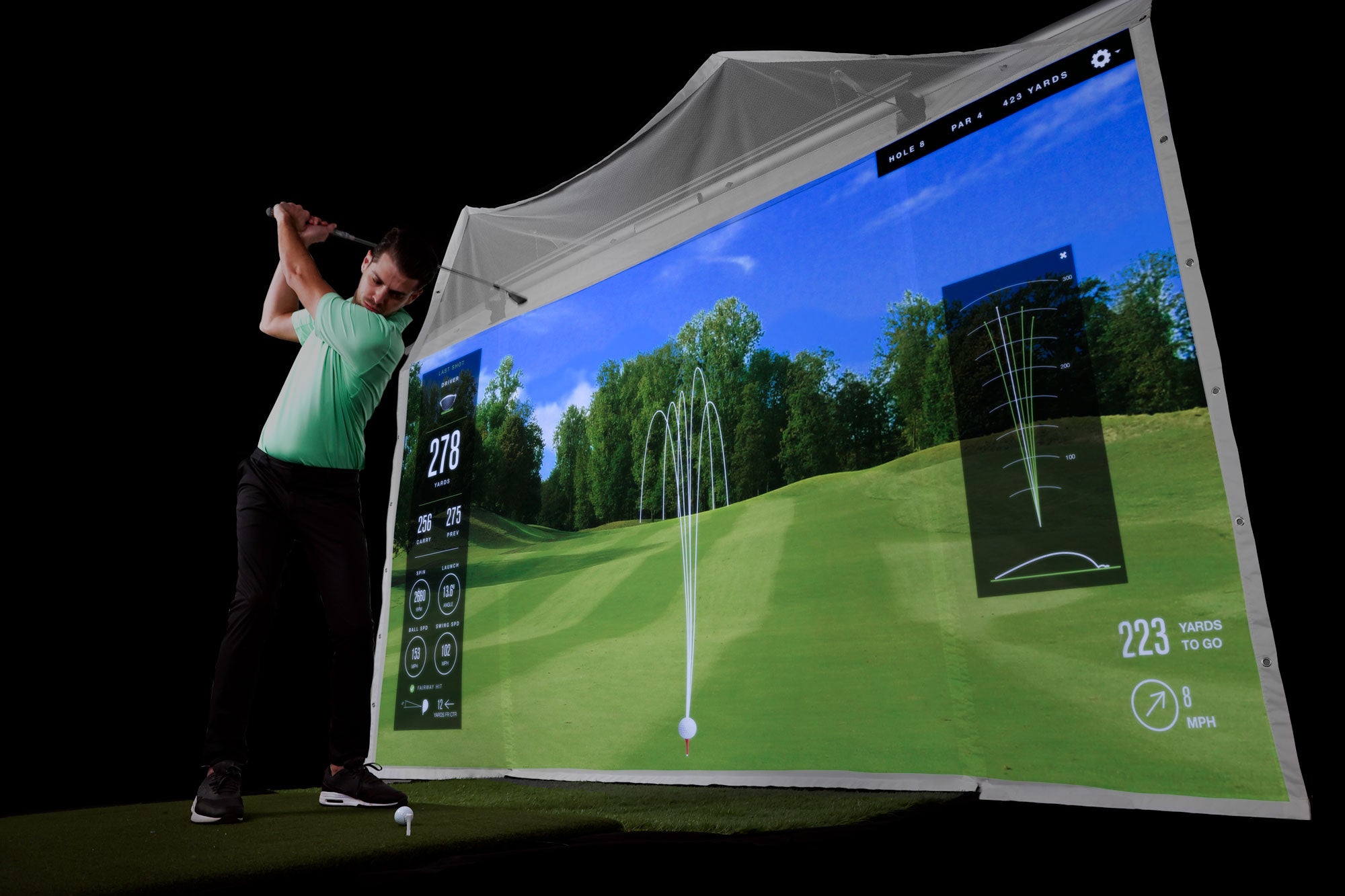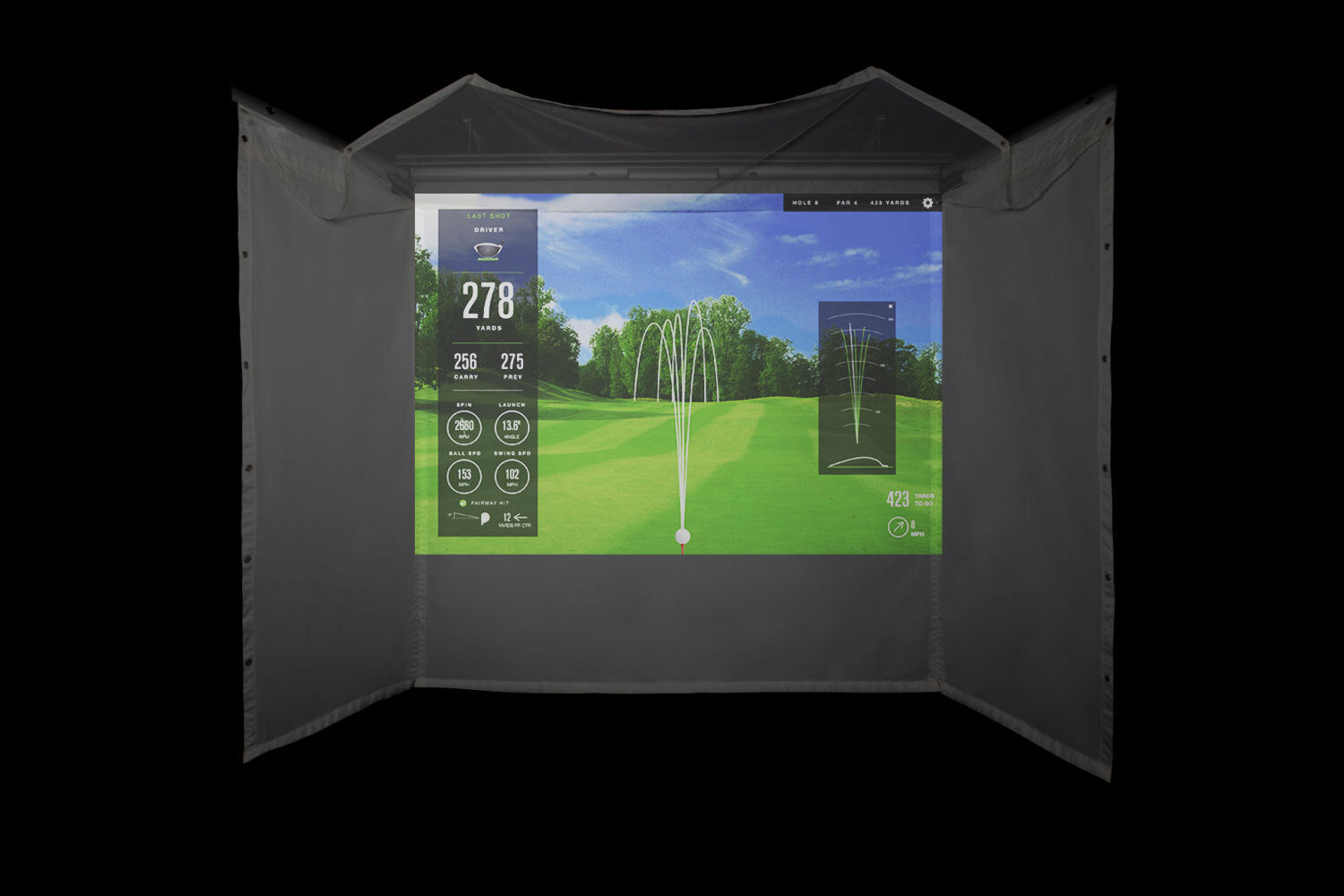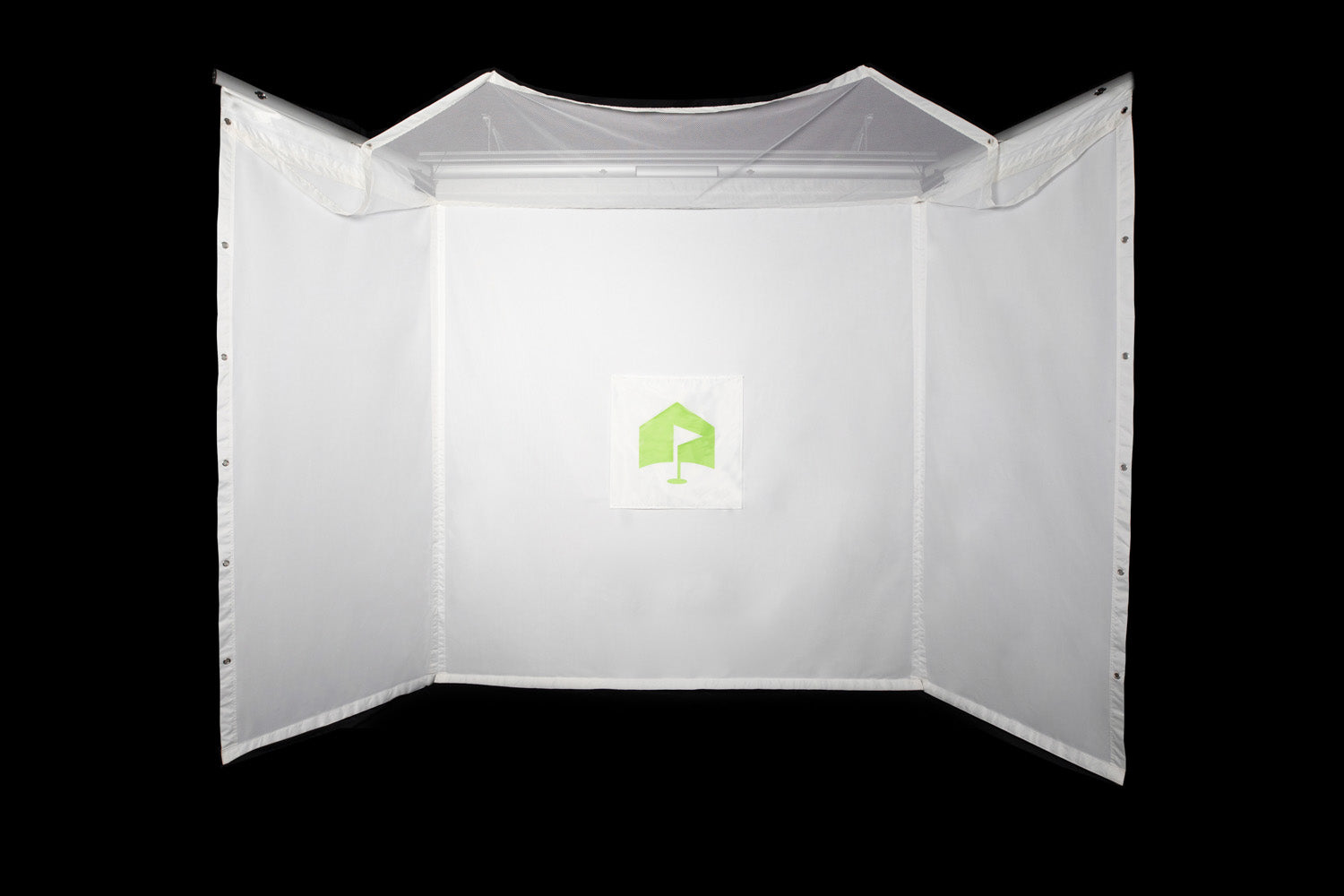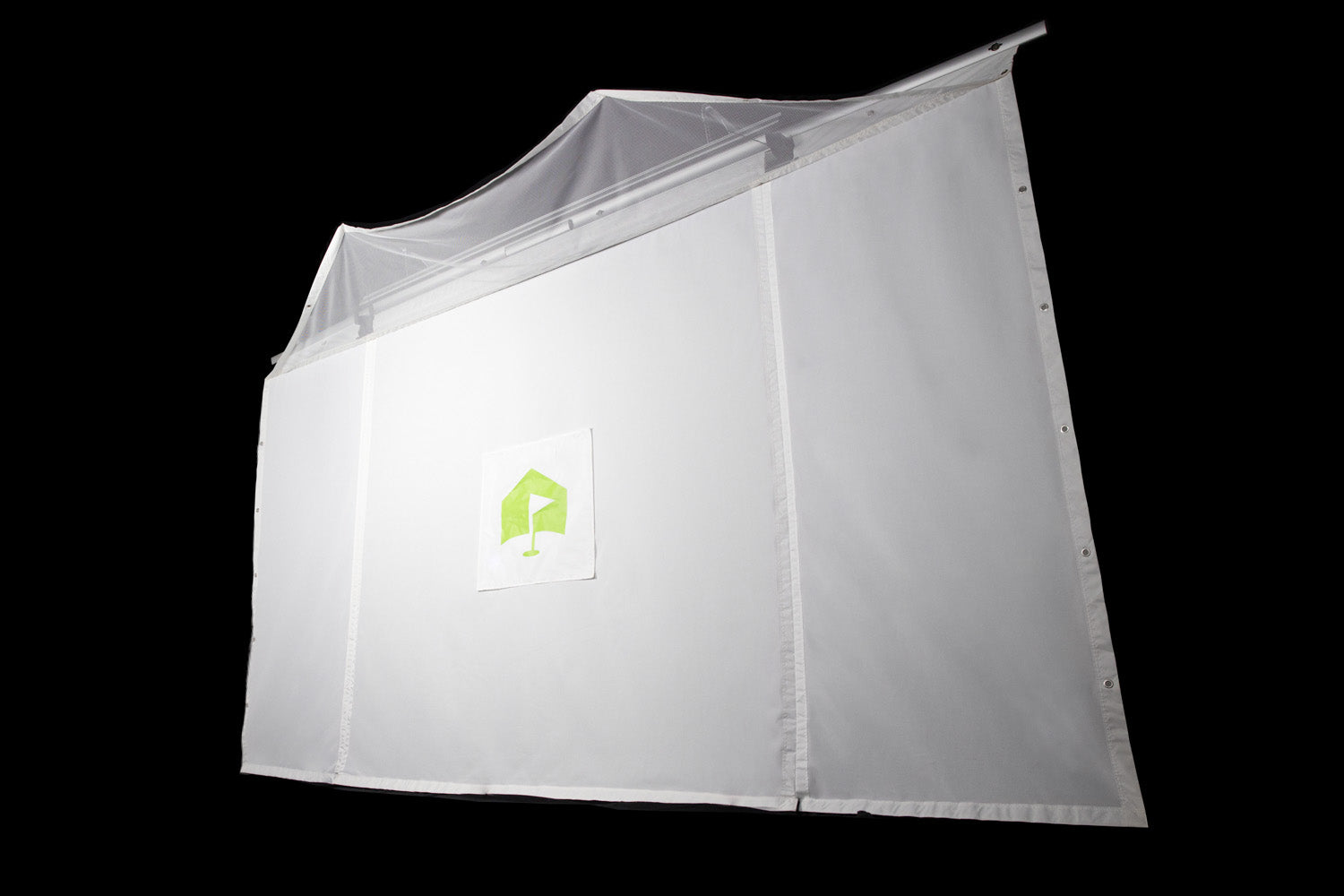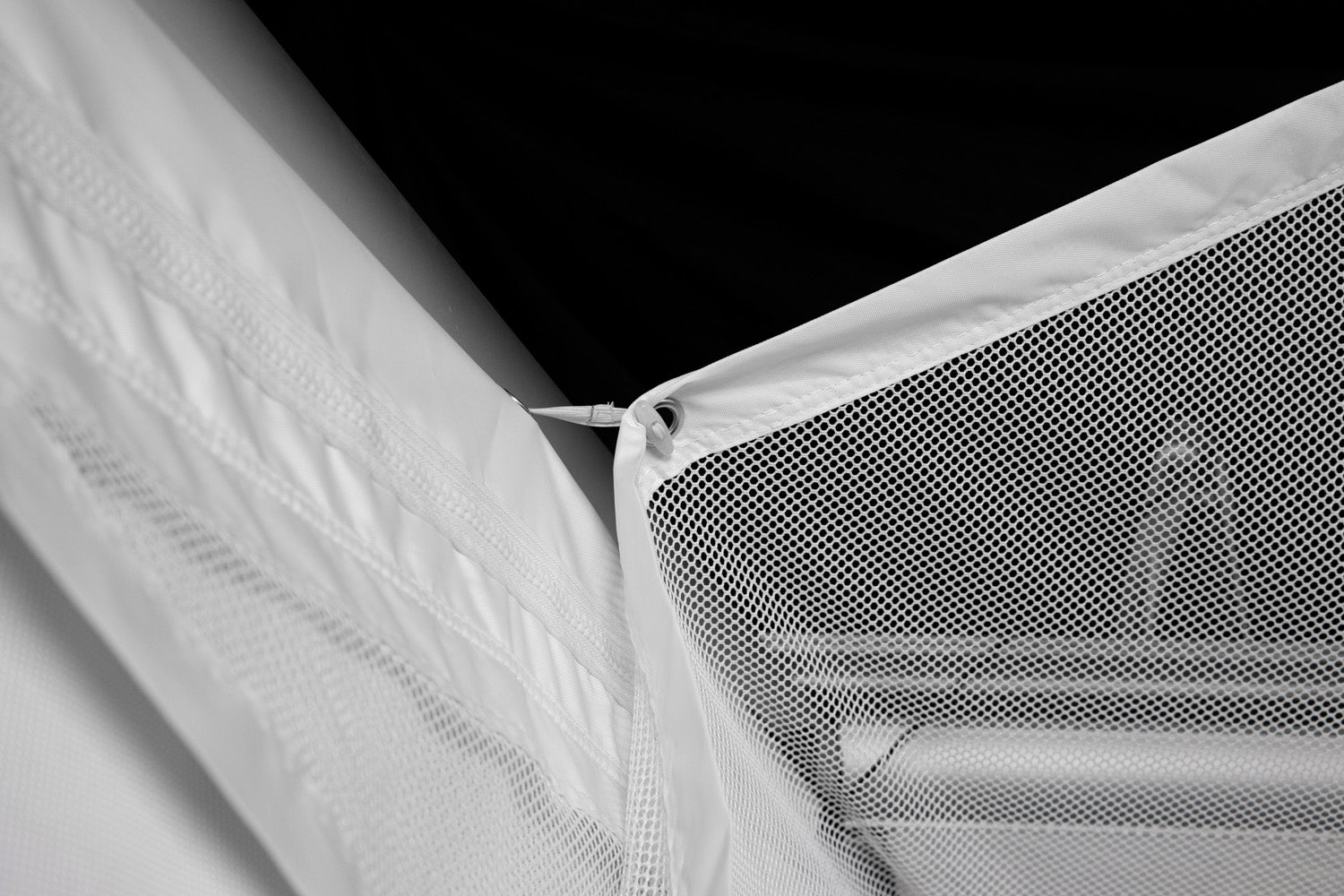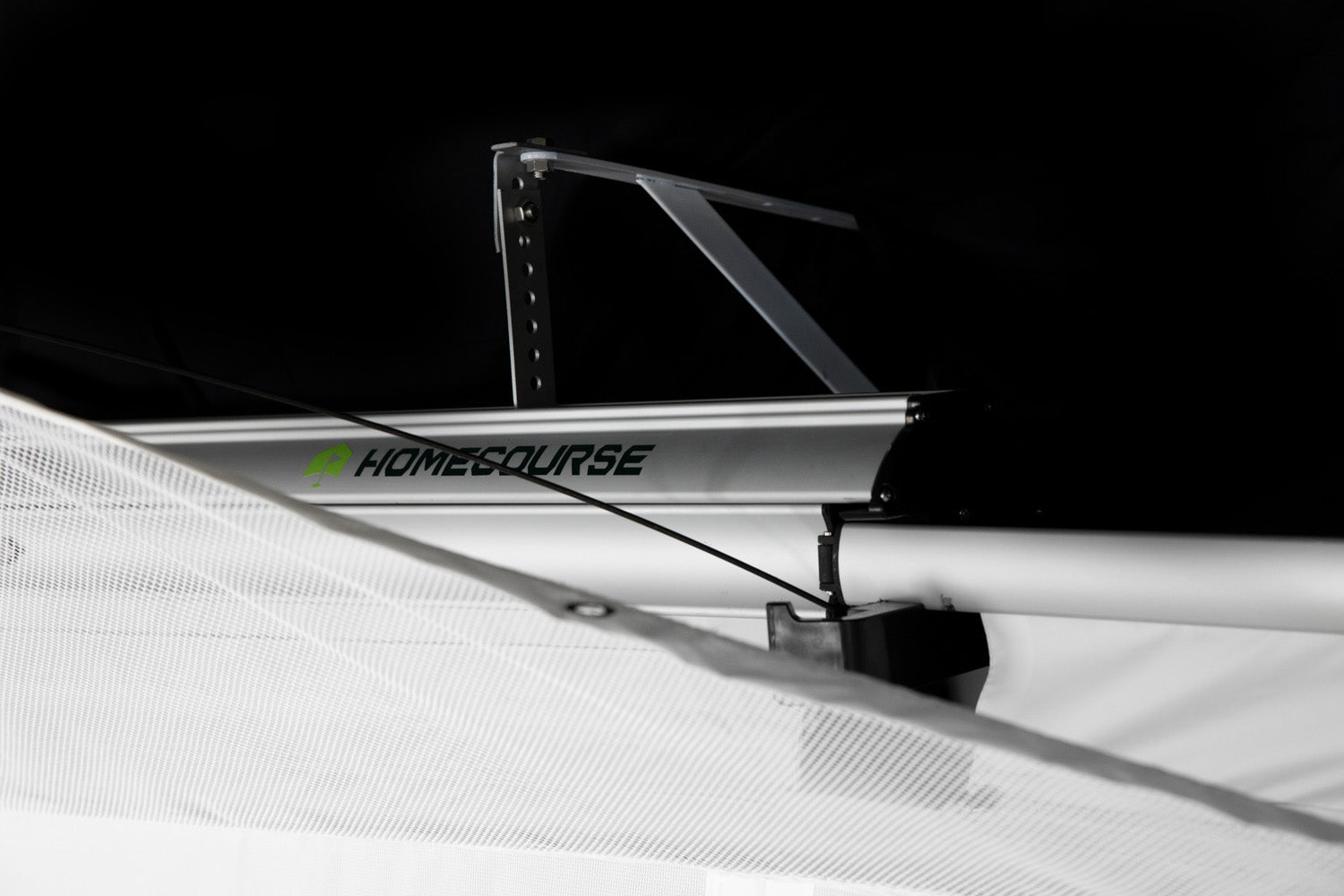 HomeCourse® is a retractable golf screen and enclosure. HomeCourse®'s ballistic grade screen can handle the impact of a live golf ball, and provides netting over head and to the sides to contain errant shots, so you feel confident about the safety of your surroundings. The screen is projectable, so it can be used with or without a simulator and projector.
You need a minimum width of 10ft. 6in. to fit HomeCourse® with its Pro-Arms fully extended. It is recommended to mount the screen 18 inches from a wall to provide space for impact absorption. Beyond that, you just need room to swing a club freely–front, back and above. Typically, an area with 10ft. 6in. (W) x 12 ft (D) x 8ft. (H). is sufficient, but everybody is different, and so are their swings, so you must test your space before installing HomeCourse®. The unit must be installed no more than 8 feet from the ground, so the bottom of the screen touches the ground. It can be mounted lower, as well, which provides some extra slack at the bottom and is okay.
Anywhere you have the space for it. Recommended examples include: Game rooms or media rooms where you want to create a golf simulator environment without dedicating a room permanently; Garages allow for a great simulator environment, and after the HomeCourse® rolls up, a car fits perfectly under it; Offices make a great practice environment so you can work on your game without having to leave and break up your work day.
If you have experience drilling walls, locating studs and mounting hardware, HomeCourse® can be installed yourself. It is recommended to have somebody help with two ladders, as it makes it easier to hoist the unit without special equipment.
If you need to mount to a wall, you will need to purchase the HomeCourse® Wall Mount Kit. After the ball makes impact with the screen, you will want it to land on a soft surface, so we recommend using artificial grass or another soft material. Additionally, third-party hitting mats, simulators and launch monitors, projectors, computers, and software can maximize your custom HomeCourse® experience.
Have question? We have answers.
Creating an ideal entertainment or training environment can be a challenge.
For a complimentary consultation or to resolve any queries you may have, feel free to connect with our Specialist Team.