Twisted Tech Racing Simulator
ONE TIME PURCHASE
Sale price

$6,899.00
Regular price
(/)
CURRENT LEAD TIME: 1 WEEK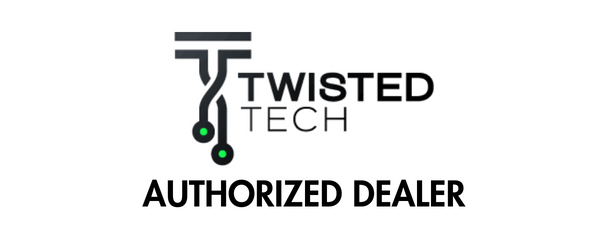 ---
The Twisted Tech Racing Simulator is designed for performance, versatility, comfort, and utility. Our hand-tested components guarantee compatibility and quick setup for any racer, on dirt or asphalt, for fun or competition.
The Twisted Tech Racing Simulator was envisioned with the focus of putting our customers on the virtual track quickly and reliably when the driving simulator arrives at your door.  We designed it for performance, versatility, comfort, and utility to bring together a racing simulator that fits the size and need of any racer. Every component of the racing cockpit simulator is hand tested and carefully chosen by Twisted Tech to guarantee their compatibility and take the guesswork out of choosing what you need. Whether you race on dirt or asphalt and for fun or competition, the Twisted Tech RS exceeds your need for speed.
Racing Sim Specs
TRAK RACER TR8 PRO SIMULATOR FRAME
The Trak Racer TR8 Pro Sim Frame is engineered to be rigid, durable, and comfortable without sacrificing comfort and adjustability. Full adjustability in your steering wheel, pedals, and seat ensures you will be comfortable no matter how long you race.
Optional Accessory
Trak Racer's SA-10 Fiberglass Seat has been engineered for both strength and comfort with sizing to suit most drivers. The SA-10 is an ultra-light competition simulator seat that features integrated bolsters and is wrapped in a washable, impact-absorbing and fire retardant fabric. With multiple mounting points available to the frame your comfort is guarantee
Optional Accessory
The Trak Racer SA-08 is a light-weight and stylish reclining sport seat and is suitable for most racing simulators that demand a comfortable, long-lasting and great looking seat. Trak Racer's SA-08 is wrapped in thick, high-quality and durable leather-style fabric and has a race-inspired shape. The SA-08 features a strong, lightweight tubular frame and injection molded foam for the ultimate combination of comfort, performance, and durability. High density foam provides excellent support.
MOZA R9 DIRECT DRIVE WHEEL BASE
The R9's 9Nm direct drive motor and fine tuning through the Moza Pit House app simulates the full handling range of driving a real car that delivers realistic seat time in the racing simulator.
MOZA CS STEERING WHEEL WITH MPI 13" SIM RACING GT STEERING WHEEL
The Moza CS Steering wheel hub comes with programmable buttons, segment dials, and joysticks to give you full control of your vehicle and other controls. It includes carbon fiber magnetic shifters, Moza's quick release system, and a customizable RGB sequential shift indicator. Mounted to the hub is a MPI 13" Sim Racing GT Steering Wheel for maximum comfort, realism, and durability.
Optional Accessory
The MOZA HGP Shifter is CNC machined from anodized aviation-grade aluminum to ensure its strength and longevity. The patented shifting mechanism includes a shock-absorbing damping system that's engineered to make every gear shift a positive, smooth, and satisfying experience. Requiring downward pressure to engage, both reverse and 7th gear are locked to prevent accidental selection. You can modify your shift lever with standard size aftermarket knobs.
Gaming PC Specs
Optional Accessory
The Cyberpower Gaming PC comes with all the necessary applications for your Racing Sim pre-installed and pre-configured. iRacing, Elgato Stream Deck settings, Moza Pit House, Oculus (if applicable), and more. All tested in house by the team here at Twisted Tech.
49" SAMSUNG QHD GAMING MONITOR
Optional Accessory
Samsung's 49" QHD curved gaming monitor ensures you don't miss anything going on around you in your car from the seat of your racing sim.
META QUEST 2
Optional Accessory
The Meta Quest 2 puts you directly in the seat of the car in your racing sim with a full 360 degree view to give you the upper hand on the track. The immersion of the sounds and views from the Quest 2 when racing is unmatched and is guaranteed to blow you away!
STEELSERIES ARCTIS 7+ GAMING HEADSET
The Steelseries Arctis 7+ is one of the highest awarded and sought after gaming headsets on the market. It has a 30-hour battery life, easy on-ear headset controls, a durable lightweight steel frame, adjustable head strap, 3D audio capability on PC and PS5, and lossless ultra-low latency 2.4GHz wireless.
The Bose Soundbar provides spacial external audio for your racing simulator from the most reputable provider of audio devices. Connected to the PC wirelessly via bluetooth and comes with an included remote. Volume presets are pre-configured on the included Elgato Streamdeck to help you quickly adjust your volume on the fly.
The RGB USB hub features 14 lighting modes, including colorful, dynamic breathing lighting mode and monochrome static lighting mode. With 7 USB touch switches you can switch the light modes at will and turn on/off the independent USB port for flexible use. The USB 3.0 Hub splitter is equipped with a 20W (5V/4A)Power Supply that ensures safe & steady data transfer for all connected devices and a built-in surge protector, with overvoltage protection and overcurrent protection, ensures safety and efficiency. Comes pre-installed on your racing sim with all wires cleanly managed and pre-connected.
8 OUTLET SURGE PROTECTOR WITH USB PORTS
The P8U2 offers guaranteed surge protection from one of the most trusted power protection companies in the industry, APC by Schneider Electric. Connect and protect up to 8 electronics, and conveniently charge your mobile devices via 2 additional USB ports. This surge protector is the security in place to protect your racing simulator and other connected devices. 
This wireless multi color keyboard and mouse pad ensures you won't have any cables in your way during your racing sessions. Compact, easy to use, and long battery life make navigating your Gaming PC a breeze.
Choose options
Have question? We have answers.
Creating an ideal entertainment or training environment can be a challenge.
For a complimentary consultation or to resolve any queries you may have, feel free to connect with our Specialist Team.