STEMPilot Edustation Pro With Instrument Pod
ONE TIME PURCHASE
Sale price

$8,695.00
Regular price
(/)
CURRENT LEAD: TIME 6-8 WEEKS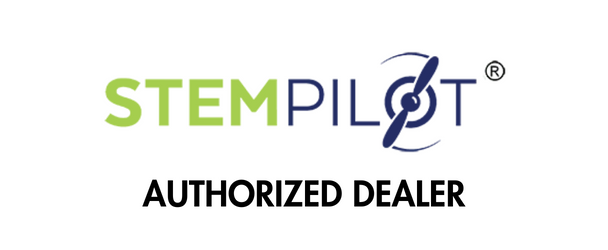 ---
STUDENTS APPLY CLASSROOM MATH, SCIENCE AND ENGINEERING BY LEARNING TO FLY.
The Edustation Pro delivers the full cockpit experience with "Hands On" NAV & COM Radios, Altimeter, Switch Panel, Trim, Flaps and autopilot. Fully capable of flying ILS approaches and VOR and GPS Direct flight plans.
The Edustation Pro is capable of flying from every airfield on the planet in one of 50+ aircraft. Students will plan and fly flights using basic algebra, geometry, trigonometry, physics, geography and topography. Edustations are designed for classrooms where they can be nested together.  Each Edustation has our tutored simulator learning missions teaching all of the fundaments by flying through boxes in the sky.
Using STEMPilot's Visual learning First Education approach engages students by watching a video on the content before reading it. This curriculum is used in STEM labs, Science/Physics/ Engineering Design classrooms, Flying/Aviation Clubs, After school programs or with a Jr. R.O.T.C. program.
By teaching the principles of flight leverages STEM concepts in; geometry, algebra,
trigonometry, physics, meteorology, geography and topography.
Each Edustation Includes
STEMPilot's easy to follow curriculum book embracing Project Based Learning.
STEMPilot NGSS aligned multimedia Lesson Plans on a flash drive
Simulator Learning Missions guiding the pilot through every step
Compact welded steel design, easy to roll in and out of classrooms
Instrument Pod with NAV & COM Radios, Switch Panel, Altimeter, Autopilot, Trim, Flaps & more..
Forward view displayed on a 32″ HD wide screen
Custom PC designed and built for STEMPilot to deliver stunning graphics
Prepar3D flight software by Lockheed Martin
Flight controls – yoke, throttle quad and rudder pedals
Surround sound for an immersive experience
Easy plug-in and set-up
No prior aviation experience is necessary
Easy to network the whole class
Students form "Flight Crews" for Collaborative Learning
Excite Future Careers

 

in Engineering, Aviation, Coding, Business, Air Traffic Control, Air Frame and Power Plant Repair and more..
Free Shipping to 48 Contiguous States (does not include Hawaii, Alaska or other US Territories)
Guides & Curriculum
All STEMPilot's product includes our Standard K-12 S.T.E.M. Curriculum, SAFEDrone Curriculum, Media supported lesson plans, Fully tutored simulated flights teaching the basics of aircraft operation, and so much more.
All of the STEMPilot lessons are aligned to Next Generation Science Standards, Common Core, New York City Science Scope & Sequence, and other city and state standards to help teachers incorporate STEMPilot in the classroom.
Feel free to check out the alignment and facilitation materials below, or contact us further detail.
Specifications
Dimensions: 50" wide, 31" long, 58" high
Warranty: 1 year included; extended warranty available
Educators & Bulk Orders
Please Contact Us at +1 (844) 345-3195 or by email at support@simulatorhq.com for Educators or Bulk Discounts of 5 or more units.
BREAK
Choose options
Products generally ship in 6-8 weeks, subject to current demand, product selection and quantity. Arrival/shipping times will vary depending on your location.
If a component of the simulator breaks while it is under warranty, please contact us for repair or replacement.

If something breaks and is not under warranty, we will work with you to repair or replace the component at additional cost.
Yes. Each simulator comes with a 1 year warranty from the time you receive the unit. We ask that you fill out and submit the warranty card that comes with your product within 30 days of receiving your product.

You may also purchase an extended warranty at an additional cost.

For more information, you can contact us directly.
Have question? We have answers.
Creating an ideal entertainment or training environment can be a challenge.
For a complimentary consultation or to resolve any queries you may have, feel free to connect with our Specialist Team.