SkyTrak+ Golf Simulator Studio
ONE TIME PURCHASE
Sale price

$5,995.00
Regular price

$6,995.00
(/)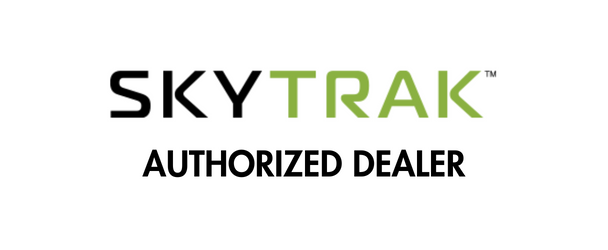 ---
Surround yourself in your very own immersive golf studio and elevate your golf simulation experience with SkyTrak!
SkyTrak presents the Play Now Golf Simulator Home Studio, a simplified solution for building your personal golf simulator. This comprehensive package includes EVERYTHING you need to Practice, Play, and Compete at home. From spare rooms to basements or garages, the Play Now Golf Simulator Home Studio lets you own a top-notch golf simulator at a cost you won't believe.
Features
SkyTrak's patented easy-build frame system ensures that you'll be ready to explore the SkyTrak range or course promptly. You can expect to go from unpacking to teeing off in less than an hour.
Resilient Impact Screen: Designed for frequent golf shots while providing a sharp projected image.
Effortless Frame Assembly: Clear instructions are included for setting up the steel frame enclosure.
Sturdy Hitting Mats: SkyTrak's package comprises a 5x5 hitting mat and a custom-sized putting mat.
Whats In The Box
SkyTrak+ and Protective Shield: The new launch monitor and protective case.

Enclosure:

 

The package comes with a SkyTrak Play Now Golf Sim Studio Enclosure enhanced with side netting for added protection.
Mats:

 

You'll receive a SkyTrak 5'x5' Hitting Mat and a custom-sized putting turf.
Projector:

 

The package includes an Optoma GT1080 HDR Projector (DLP) for a superior visual experience.
Ball Tray:

 

An easily accessible Ball Wing Molded Rubber Ball Tray is included for convenient ball storage.
Software & Courses: 
Play and Improve Plan: Special bundle for our iOS and PC

Skills Assessment
Bag Mapping
Practice Randomizer 
Wedge Matrix
Shot Optimizer
Shot History
WGT by TopGolf Full Course Play on 15 WGT by TopGolf Golf Courses*
WGT by TopGolf Closest-to-Hole Challenge on 6 WGT by TopGolf Golf Courses*
15 Course Pack from TruGolf E6 Connect Including: Aviara, Belfry, Sanctuary, Wade Hampton, Stone Canyon, Bandon Dunes, Oakmont, Torrey Pines, Troon North, Prairie Dunes, Banff, Barton Creek, Loch Lomond, Pelican Hill, Cabo Del Sol
*WGT by TopGolf is for iOS Only and supports single player.
*E6 Connect is only compatible with an iPad for iOS and PC
Space Requirements
Our recommendations when considering the size of enclosure you will use:
Golf Simulator Height:
Ensure a buffer space of at least 2-3 inches from the available height. For optimal installation, allowing a ceiling buffer of 6-7 inches is recommended.
Golf Simulator Width:
Deduct 4-6 inches from the available width, accounting for 2-3 inches on each side.
Golf Simulator Depth:
Position your golf simulator enclosure a minimum of 12-16 inches from the wall, directly behind the impact screen.
Below are the sizes of the enclosures
Studio 10
10' W x 8'6" H x 5'4" D
Studio 12
12' W x 8'6" H x 5'4" D
Studio 13
13' W x 10' H x 5'4" D
Studio 13 Deep
13' W x 10' H x 10' D
BREAK
Terms And Conditions
After 24 hours, a fee of $250 will be incurred by the customer for order cancellation of this product purchase.
Choose options
Typically, if you have space to swing a golf club without hitting anything, you have enough space for the SkyTrak system. Ideally, you should have a space that's at least 10 feet wide and 10 feet deep. The height of the room might vary based on how tall you are and the length of your golf club.
Your SkyTrak comes with a 30-day satisfaction guarantee and a 6-month or 25,000-shot warranty, whichever comes first. This warranty covers any defects in materials and workmanship.

If your SkyTrak has a defect due to material or craftsmanship issues, it will be replaced under this warranty. However, the warranty does not cover damages from impacts, cosmetic issues, misuse, improper setup, or trying to modify the product. It also doesn't cover damages from attempting repairs (except for changing the battery), or normal wear and tear. Damage from spills, liquids, fires, power fluctuations, or other unusual incidents, as well as use with third-party accessories, are also not covered.

To be eligible for warranty protection, your SkyTrak launch monitor unit must have a protective shield.
SkyTrak+ requires specific hardware to function correctly, and it's important that no VPN software is installed on your system for proper connection.

For PC users:

Operating Systems: Windows 7*/10/11 64-bit
Processor: 2GHz
Memory: 4GB RAM
Internet: Required for initial setup and license synchronization**
Storage: 1GB free space

*Note: Windows 7 is not actively supported by Microsoft and may become incompatible.
**Internet is needed only during first-time setup and for syncing your license with the SkyTrak App.

For iOS users:

iPhone 7 or newer
iPad Air 2 or newer
All iPad Pro models
iPad Mini 4 or newer

*Note: Devices like the iPad Pro 3rd Gen, iPad Pro 4th Gen, and iPad Air (2020) have extended resolution displays, which might result in black edges around the app.

For Android users:

The following devices are officially approved: Google Pixel C or newer, Samsung Galaxy S6 or newer, Samsung Galaxy Tab S2 or newer.
Generally, newer Android devices with Octa-core (or dual quad-core) processors perform best. This list will be updated as more devices are tested.

For Mac users:

While some Mac models can run mobile (iOS) apps like SkyTrak, they are not officially supported by SkyTrak+.

SkyTrak works with several third-party golf simulation programs, each offering its own unique features and advantages, along with their own pricing. These can be purchased and accessed through SkyTrak's program post purchase.

Available Software Platforms:

TruGolf E6 Connect
The Golf Club 2019
Creative Golf
WGT by TopGolf
Golfisimo
ProteePlay
Have question? We have answers.
Creating an ideal entertainment or training environment can be a challenge.
For a complimentary consultation or to resolve any queries you may have, feel free to connect with our Specialist Team.